Rosas dances En Atendant in Brussels!
Published on 09.09.2022, 14:54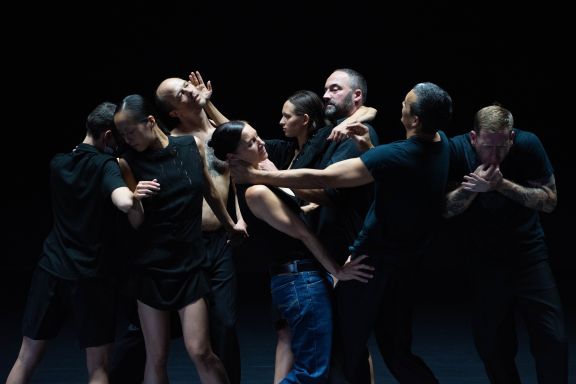 En Atendant, a choreography for eight dancers accompanied by live music, was originally created in July 2010 for the Cloître des Célestins in Avignon. Starting next week, it will be performed at Rosas Performance Space, co-presented by De Munt / La Monnaie and Kaaitheater.

This presentation of En Atendant is the first revival of a more recent work by Rosas, and, following the presentation of Mozart Concert Arias: Un moto di gioia (1992) by Opera Ballet Vlaanderen in June, the second revival this year of a work created for the Avignon Festival.

For En Atendant, Anne Teresa De Keersmaeker took the polyphonic music of Ars Subtilior as the starting point for the development of a new dance vocabulary. This performance laid the foundations for her principles "my walking is my dancing" and "my talking is my dancing," and inspired a renewed questioning of the relationship between the architecture of the body and the music.

Ars Subtilior is a complex and intellectual musical form dating back to the fourteenth century that starts from a dissonant, unexpected stratification. It matured in a world scarred by the plague, at a time when the social, political, and religious pillars of medieval society were splintering. Today, this sense of upheaval seems more topical than ever. In our current times, also marked by crisis and uncertainty, questions surrounding our physicality and our mortality, feel once again very pressing.
Performances:
September 15-17, 2022 20:30
September 22-24, 2022 20:30
September 25, 2022 15:00
September 28-October 1, 2022 20:30
Location: Rosas Performance Space
Tickets via De Munt / La Monnaie or Kaaitheater
En Atendant
Anne Teresa De Keersmaeker / Rosas & Cour et Coeur

Choreography
Anne Teresa De Keersmaeker

Danced by
Boštjan Antončič, Sophia Dinkel, Carlos Garbin, Marie Goudot, Cynthia Loemij, Mark Lorimer/Michaël Pomero, Sandy Williams, Sue-Yeon Youn

Created in 2010 with
Boštjan Antončič, Carlos Garbin, Cynthia Loemij, Mark Lorimer, Mikael Marklund, Chrysa Parkinson, Sandy Williams, Sue-Yeon Youn

Music
...L(ÉLEK)ZEM..' Istvan Matuz
En Atendant, souffrir m'estuet (ballade) Filippo da Caserta
Estampie En Atendant 2 (2010) Bart Coen
Sus un' Fontayne (virelai) Johannes Ciconia
Je prens d'amour noriture (virelai) anoniem / anonyme
Esperance, ki en mon coeur anoniem / anonyme

Ensemble
Cour et Cœur

Music director
Bart Coen

Recorders
Bart Coen / Dimos De Beun

Fiddle
Thomas Baeté / Manuela Bucher

Voice
Annelies Van Gramberen / Lieselot De Wilde

Flute
Michael Schmid

Scenography
Michel François

Costumes
Anne-Catherine Kunz

Rehearsal directors
Femke Gyselinck, Fumiyo Ikeda, Cynthia Loemij, Chrysa Parkinson

Musicological advice
Felicia Bockstael

Artistic coordination and planning
Anne Van Aerschot

Technical director
Freek Boey

Assistant technical director
Jonathan Maes

Technicians
Jan Balfoort, Quentin Maes, Miguel Rosado, Thibault Rottiers, Julian Staurini

Costume coordinator
Alexandra Verschueren
Geassisteerd door / assistée par Els Van Buggenhout

Wardrobe
Chiara Mazzarolo

Tour managers
Bert De Bock, Jolijn Talpe

Production
Rosas

Coproduction
De Munt / La Monnaie, Festival Grec (Barcelona), Les Théâtres de la Ville de Luxembourg, Théâtre de la Ville (Paris), Festival d'Avignon, Concertgebouw Brugge (Bruges)

World premiere
Festival d'Avignon, Cloître des Célestins, July 9, 2010

Duration
1:35

Rosas is supported by the Flemish Community and by the BNP Paribas Foundation.