Dark Red – Kolumba
Anne Teresa De Keersmaeker / Rosas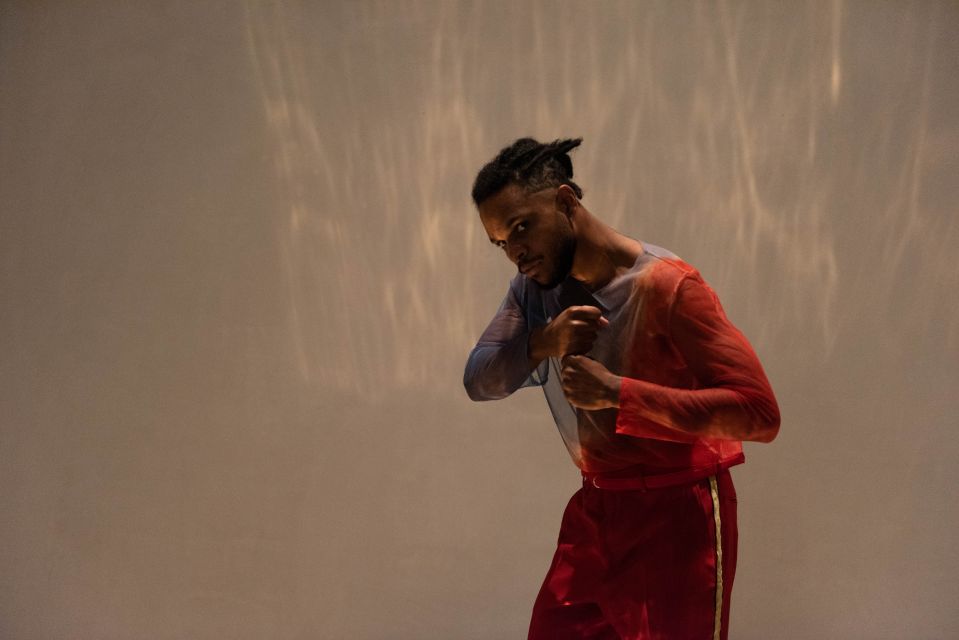 Anne Teresa De Keersmaeker's Dark Red continues to bring dance into the museum, this time at one of Cologne's oldest art institutions: the Kolumba (1853), a space, designed by Peter Zumthor, rich in religious aura, given both its modern/Gothic architectural palimpsest and much of its collection. Taking the number twelve as its point of departure, in this cross-pollination one sees—almost miraculously— intersecting the dodecahedron (a geometric solid with twelve pentagonal faces), the twelve volumes of Salvatore Sciarrino's Opera Per Flauto, thirteen male performers, and El Greco's painting of the twelve Apostles (ca. 1610–14).
Shunning miracles, De Keersmaeker evacuates Kolumba of almost all religious icons and embraces modern science. For one full week, amid the silence of Kolumba's mazelike viewing space, one overhears Gottfried Leibniz quarreling with Isaac Newton over gravity and the nature of space and time through calculus. At regular intervals one also hears the physically intensive sonority of Sciarrino's breath cycles, which insinuates the "return" of the human body to the museum. Dancers' physiques, in lieu of devotional objects, embody abstraction and manifest the logic of mathematics and geometry.
Undercutting this trajectory of humanist confidence is Dark Red's simultaneous highlighting of the fragility and humbleness of the body's relationship with nature. This is expressed through De Keersmaeker's choreographic interpretation of Albrecht Dürer's Melencolia I (1514) as the abyss where one realizes the impossibility of totally grasping and controlling nature. The infusion of melancholia creates a dialogue with the site of ruins that uniquely characterizes Kolumba as a psycho(logical)scape.
Concept
Anne Teresa De Keersmaeker

With
Michael Pomero, Bostjan Antončič, Lav Crnčević, Frank Gizycki, Jose Paulo dos Santos, Rafael Galdino, Thomas Vantuycom, Robin Haghi, Jason Respillieux, Mark Lorimer, Igor Shyshko, Carlos Garbin, Jakub Truszksowksi
Music
Salvatore Sciarrino, l'Opera per Flauto

Musicians
Chryssi Dimitriou, Michael Schmid (Ictus)
Choreographic assistants
Diane Madden, Michael Pomero
Costumes
Lila John
Production
Rosas
Coproduction
Tanz Köln, Kolumba
Dark Red was realized with the support of the Tax Shelter of the Belgian Federal Government, in collaboration with Casa Kafka Pictures Tax Shelter empowered by Belfius.
Dark Red — traileDark Red — Kolumba Cologne — trailer

Dark Red — Kolumba Cologne — teaser

Dark Red – Kolumba