Forêt
Anne Teresa De Keersmaeker, Némo Flouret / Rosas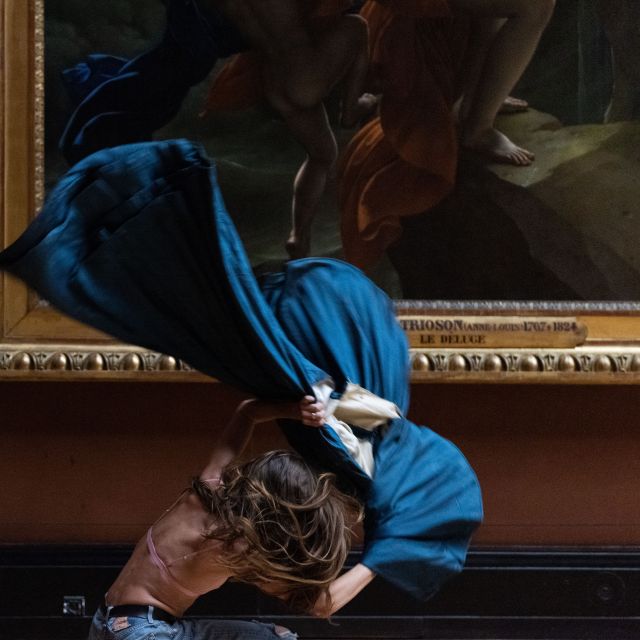 Forêt is a museum project for eleven dancers, created for the first floor of the Denon wing at the Louvre. For Forêt, Anne Teresa De Keersmaeker assembles a new generation of artists and performers, in collaboration with choreographer Némo Flouret. De Keersmaeker and Flouret have worked together on several occasions, including Dark Red at the Fondation Beyeler in 2021.
In this new project, the Italian and French galleries of the Louvre are the starting point for a reflection on the image as a way of worldmaking. Forêt travels through the Louvre's collection of paintings from the 14th to the 19th century to examine the emergence of visual culture and the modern scopic regime. It draws on the notions of limits and extremities, and activates the museum's architecture and artwork, by exploring strategies of framing and by playing with scale, contrast, and excess. The choreography is based on movements of expansion and contraction, not only within the individual body, but also in relation to the organization of time and space.
Which positions can be taken with respect to the Louvre? How can performers confront the massive amounts of information and narratives contained inside this building? How will bodies and voices resonate as they move through a museum of such density? Can solitude surface as an effect?
Exploring a variety of mediums, Forêt will arrive at a spectrum of situations and scenes, punctuating the spectator's trajectory with unexpected rendez-vous.
Concept & choreography
Anne Teresa De Keersmaeker, Némo Flouret
Created with and performed by
Boštjan Antončič, Lav Crnčević, José Paulo dos Santos, Synne Elve Enoksen, Rafa Galdino, Tessa Hall, Mariana Miranda, Margarida Ramalhete, Cintia Sebők, Jacob Storer, Solène Wachter
Soundtrack
Alain Franco
Costume Design
An D'Huys
Artistic Assistants
Michaël Pomero, Thomas Bîrzan
Research
Lieze Eneman, Thomas Bîrzan
Assistant to the Artistic Director
Martine Lange
Artistic Coordination and Planning
Anne Van Aerschot
Tour Manager
Jolijn Talpe
Technical Director​​
Freek Boey
Techniciens
Vincent Debognie, Yarno Drofmans, Alex Fostier, Thibault Rottiers
Costume Coordinator
Alexandra Verschueren
Assisted by Els Van Buggenhout
Wardrobe
Chiara Mazzarolo
Production
Rosas
Coproduction
Festival d'Automne à Paris, Musée du Louvre (Paris)
Premiere
23.11.2022, Musée du Louvre, Paris
Acknowledgements
Evi Cats, Leen Decin, Jolente De Keersmaeker, Lennert De Taeye, Rémy Ebras, Ann Veronica Janssens, Jean Lemersre, Christian Longchamp, Margaux Roy, Murielle Scherre, Björn Schmelzer, Frank Theunissen / Natuurmonumenten
Duration
2:30
With support of Dance Reflections by Van Cleef & Arpels
This production is realized with the support of the Tax Shelter of the Belgian Federal Government, in collaboration with Casa Kafka Pictures – Belfius.
Rosas is supported by the Flemish Community, the Flemish Community Commission (VGC), and by the BNP Paribas Foundation.