Premiere of the revival of Rain (2001)
Published on 18.09.2016, 16:36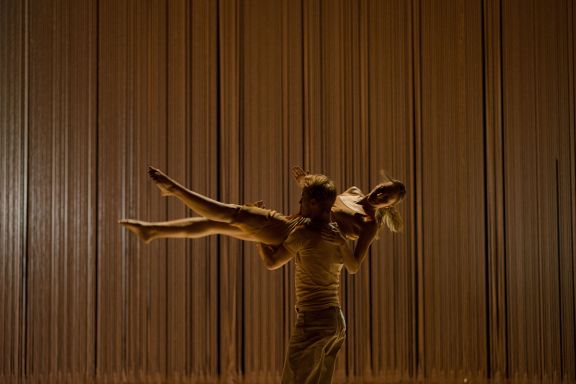 More than 15 years after its creation, Anne Teresa De Keersmaeker finally brought her successful performance Rain (2001) back to the stage with her own company Rosas. The premiere of this reprise took place on 4 October 2016 at the Brussels Koninklijk Circus. This revival is performed by a completely new group of young dancers.
Rain, set to Steve Reich's Music for 18 Musicians (1976), is one of Anne Teresa De Keersmaeker's most vibrant and characteristic performances.
With this ebullient, vivacious choreography, De Keersmaeker returned, in 2001, to two of her great loves: pure dance and the minimalistic music of Steve Reich. Accompanied by the pulsating tones of his music, for an hour and ten minutes, ten dancers occupy the stage, delineated by a curtain of fine strings, displaying an impressive succession of virtuoso dance phrases. The mathematical structures, the relentlessly geometric use of space, the art of constant variation – all of which have eventually become recognisable signatures of the choreographer – are pushed to the limits in Rain.
In Rain, De Keersmaeker approaches the company of dancers as a close-knit group of pronounced individuals who, one by one, play a vital role in the whole. Seven women and three men allow themselves to be propelled by an irrepressible collective energy that binds them together, a bubbling network that shares its breath, speed and that strange camaraderie that appears only beyond the limits of exhaustion.
The costumes of Rain were created by designer Dries Van Noten, the decor and the lighting were designed by scenographer Jan Versweyveld.
Rain had its world premiere On 10 January 2001 in De Munt/La Monnaie in Brussels. Since 2011, Rain is also on the repertoire of the Paris Opera Ballet.
This revival is a coproduction of Rosas, De Munt / La Monnaie (Brussels), Sadler's Wells (London) and Les Théâtres de la Ville de Luxembourg.