Mitten wir im Leben sind/​ Bach6Cellosuiten premieres at the Ruhrtriennale in Germany
Published on 12.07.2017, 17:31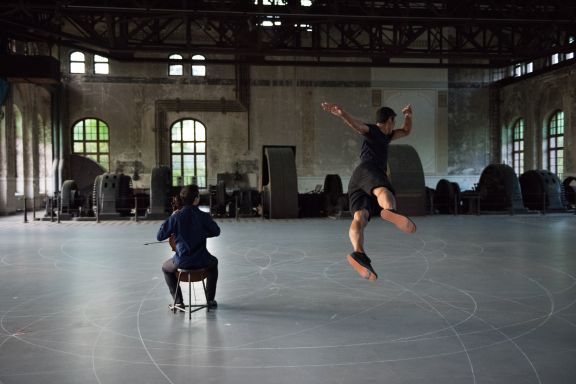 Mitten wir im Leben sind/Bach6Cellosuiten, Anne Teresa De Keersmaeker's latest choreography, will have its world première on 26 August 2017 in the Maschinenhalle Zweckel in Gladbeck (Germany), as part of the Ruhrtriennale.

During this performance, Johann Sebastian Bach's cello suites will be performed in full by world-renowned cellist Jean-Guihen Queyras. The collaboration between De Keersmaeker and Queyras came forth from a mutual appreciation of each other's work and a shared interest in musical analysis as a starting point for their interpretations.

Johann Sebastian Bach's Cello Suites are considered a milestone in the history of Western music. The intellectual and architectural elements continue to evoke contemporary appeal, with their rhythmic vitality and melodic intricacy. Anne Teresa De Keersmaeker's affinity with Bach was already apparent from such previous performances as Toccata (1993), Zeitung (2008) and Partita 2 (2013).

In this production, Bach's score is faceted, challenged, and performed through a choreography for three male and two female dancers, De Keersmaeker herself one of them. Both the individual character of the six suites and their mutual interconnections emerge from this riveting symbiosis of music and dance.
The Belgian première of Mitten wir im Leben sind/Bach6Cellosuiten sind is planned on 23 September 2017 at De Munt / La Monnaie in Brussels, in copresentation with Kaaitheater and Bozar Music. Afterwards the performance will go on tour.
More info and tourdates here.