Dark Red – Beyeler
Anne Teresa De Keersmaeker / Rosas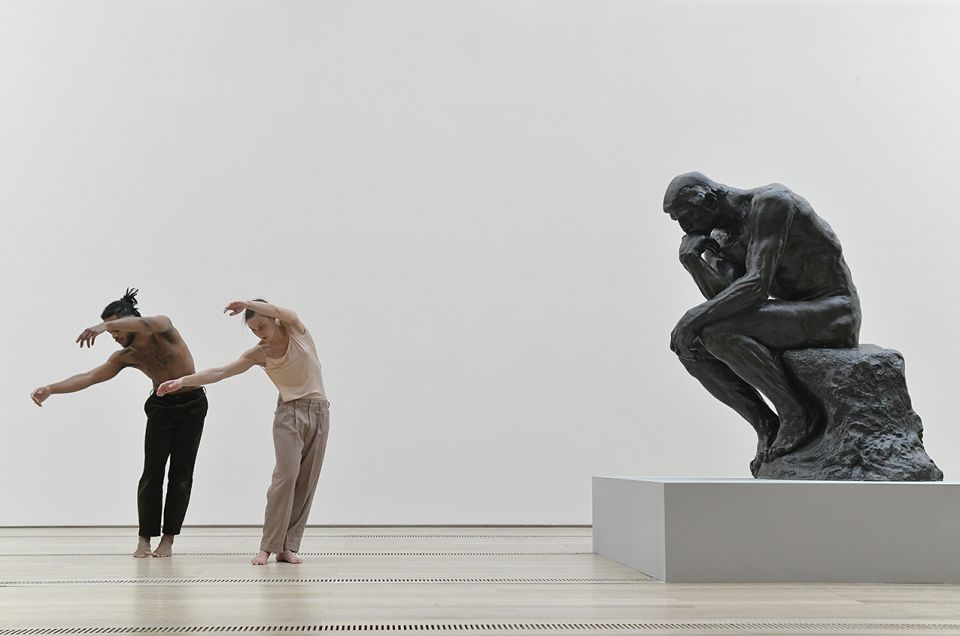 At the invitation of the Fondation Beyeler in Riehen/Basel, Switzerland, Anne Teresa De Keersmaeker has created a new choreography for the museum's current Rodin/Arp exhibition.

For this work, De Keersmaeker confronts her Dark Red with Auguste Rodin and Hans Arp's sculptural universe. The palpable power of Rodin's obsession with the human body and its implicitly narrative force and Arp's desire for formal emancipation directly resonate with De Keersmaeker's choreographic research: an exploration of the body's capacities for abstraction, an organisation of movement in time and space.

Dark Red - Beyeler will be on show from 18 to 28 March within the regular opening hours from 10 a.m. to 6 p.m. and admission is included in the exhibition ticket. The Rodin/Arp exhibition at the Fondation Beyeler runs until 16 May 2021.

Dark Red - Beyeler is part of Dark Red, a series of projects with which Anne Teresa De Keersmaeker brings dance to the museum space. Previous versions of Dark Red took place in the museum Kolumba in Cologne, in BOZAR in Brussels as part of Europalia Romania/Brancusi and in the M HKA in Antwerp.
Concept & choreography
Anne Teresa De Keersmaeker
Danced by
Boštjan Antončič, Michaël Pomero, Rafael Galdino, Marie Goudot, Frank Gizycki, Jacob Storer, Lav Crnčević, Cynthia Loemij, Yuika Hashimoto, Laura Maria Poletti, Sophia Dinkel, Nemo Flouret
Choreographic assistants
Diane Madden, Michaël Pomero
Text & research
Tessa Hall, Némo Flouret
Costumes
Lila John
Music
Take Five, Paul Desmond, @Derry Music Company
The Times They Are a-Changin', Bob Dylan
Production
Fondation Beyeler & Rosas
"Rodin/Arp" Press Conference

Anne Teresa De Keersmaeker – in conversation with Elena Filipovic