Work/​Travail/​Arbeid at The Museum of Modern Art in New York
Published on 08.03.2017, 10:08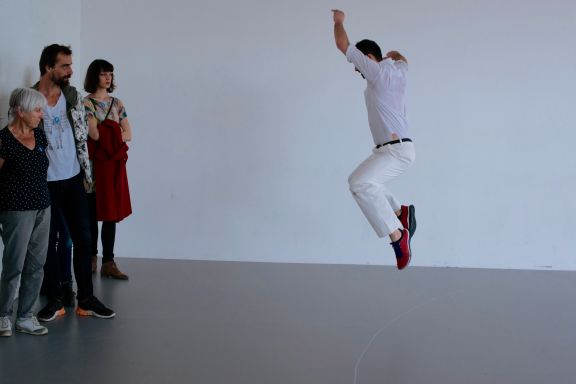 What would it mean for choreography to perform as an exhibition? This question forms the starting point for Anne Teresa De Keersmaeker's Work­/Travail/­Arbeid.

For this exhibition De Keersmaeker has transposed her hour-long dance performance, Vortex Temporum (2013) from the theatre stage, and transferred the intricate intertwining of sound and movement to the open situation of the museum.

Performed over five consecutive days this new adaptation of the exhibition, first presented at WIELS Brussels over nine weeks, is reconceived for the unique space of MoMA's Donald B. and Catherine C. Marron Atrium.

Work/Travail/Arbeid is performed by Anne Teresa De Keersmaeker's dance company Rosas and the musicians of Ictus ensemble for contemporary music.
Anne Teresa De Keersmaeker: Work­/Travail­/Arbeid
29 March – 2 April 2017
MoMA, New York
Work/Travail/Arbeid at the Museum of Modern Art is organized by Ana Janevski, Associate Curator, with Martha Joseph, Curatorial Assistant, Department of Media and Performance Art; produced by Lizzie Gorfaine, Performance Producer, with Kate Scherer, Assistant Performance Coordinator. Generous funding for the exhibition is provided by The Modern Women's Fund. Additional support is provided by the Annual Exhibition Fund.

Work/Travail/Arbeid is a production of Rosas & WIELS and was made possible with the support of De Munt/La Monnaie, Centre for Fine Arts Brussels (BOZAR), Kaaitheater, KunstenFestivaldesArts, Ictus, BNP Paribas Fortis, Fondation BNP Paribas and Rolex Institute.

Rosas is supported by the Flemish Community