Rosas danst Rosas returns to the stage
Published on 27.04.2017, 15:05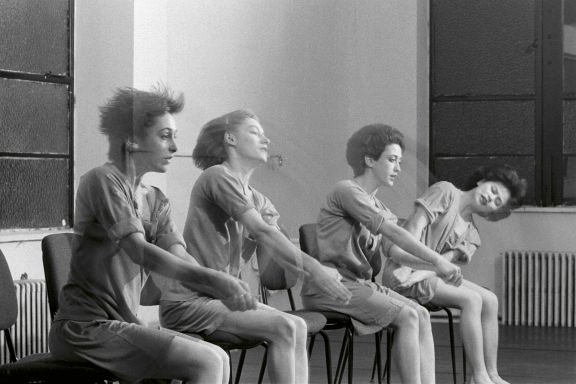 In 1983, Anne Teresa De Keersmaeker had her international breakthrough with Rosas danst Rosas, a performance that has since become a benchmark in the history of postmodern dance. Rosas danst Rosas builds on the minimalism initiated in Fase (1982): abstract movements constitute the basis of a layered choreographic structure in which repetition plays the lead role. The fierceness of these movements is countered by small everyday gestures. Rosas danst Rosas is unequivocally feminine: four female dancers dance themselves, again and again. The exhaustion and perseverance that come with it create an emotional tension that contrasts sharply with the rigorous structure of the choreography. The repetitive, "maximalistic" music by Thierry De Mey and Peter Vermeersch was created concurrently with the choreography.

Along with Rosas danst Rosas the then 22-year-old Anne Teresa De Keersmaeker established the dance company Rosas, almost 35 years ago now. She has since developed an oeuvre of over 50 creations. The success of Rosas danst Rosas and the attention of the international press resolutely put the company and De Keersmaeker on the map. In the meantime, the performance has been restaged on many occasions and has been danced 351 times in theatres all around the world.

The four original dancers of the performance, Anne Teresa De Keersmaeker herself, Adriana Borriello, Michèle Anne De Mey and Fumiyo Ikeda, were the first members of the dance company. For this restaging, the performance is taught to an entirely new cast of young dancers.
The première series of Rosas danst Rosas runs from 21 to 29 June 2017 at the Brussels Kaaitheater in a collaboration with De Munt / La Monnaie. As of 1 July 2017, the performance is on the programme for a whole month during the Summer of Antwerp Festival. Rosas danst Rosas will then go on an international tour.

More information and a provisional tour schedule here.