Rosas presents 5Agon at Musée d'Art Moderne de Paris
Published on 22.03.2023, 14:12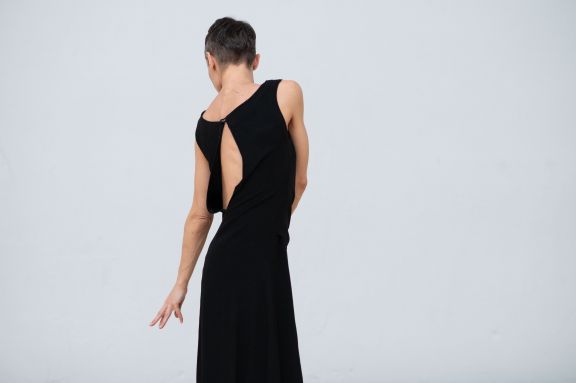 On the occasion of the exhibition Anna-Eva Bergman, Voyage vers l'intérieur at Musée d'Art Moderne de la Ville de Paris, Anne Teresa De Keersmaeker will present a new work. 5Agon is based on a choreographic écriture that starts from a poetic approach to geometry, which is also reflected in the recent drawings Anne Teresa De Keersmaeker will show in conjunction with the dance. A juxtaposition of short solos, danced by Marie Goudot, 5Agon visualizes the passing of time. The solos are linked to form a trajectory that stretches along the entire top floor of the museum and invites the spectator to walk around. Moving between visibility and invisibility, verticality and horizontality, Goudot evokes the relativity of the human being as part of a broader, ungraspable whole. It is a sensitive search, which the dancer embarks on together with pianist Alain Franco, and which she visualizes using restrained gestures and with a sense of lightness that is simultaneously very concrete. The constant negotiation between abstraction and figuration that informs the movement material clearly reflects De Keersmaekers' continued research into embodied forms of abstraction.
Dates
Friday, March 31, 2023
Saturday, April 1, 2023
Sunday, April 2, 2023
Performance continuously from 2 PM to 5:30 PM

Location
Musée d'Art Moderne de Paris
ARC (6th floor)
11 avenue du Président Wilson
75116 Paris

More information on the website of Musée d'Art Moderne de Paris.
5Agon
Anne Teresa De Keersmaeker / Rosas
Choreography
Anne Teresa De Keersmaeker

Created with and Danced by
Marie Goudot

Music
Alain Franco

Artistic Assistent
Michaël Pomero

Production
Rosas
Coproduction
Musée D'Art Moderne de la Ville de Paris
Rosas is supported by the Flemish Community, the Flemish Community Commission (VGC), and by the BNP Paribas Foundation.