Mitten wir im Leben sind/Bach6Cellosuiten
Anne Teresa De Keersmaeker, Jean-Guihen Queyras/Rosas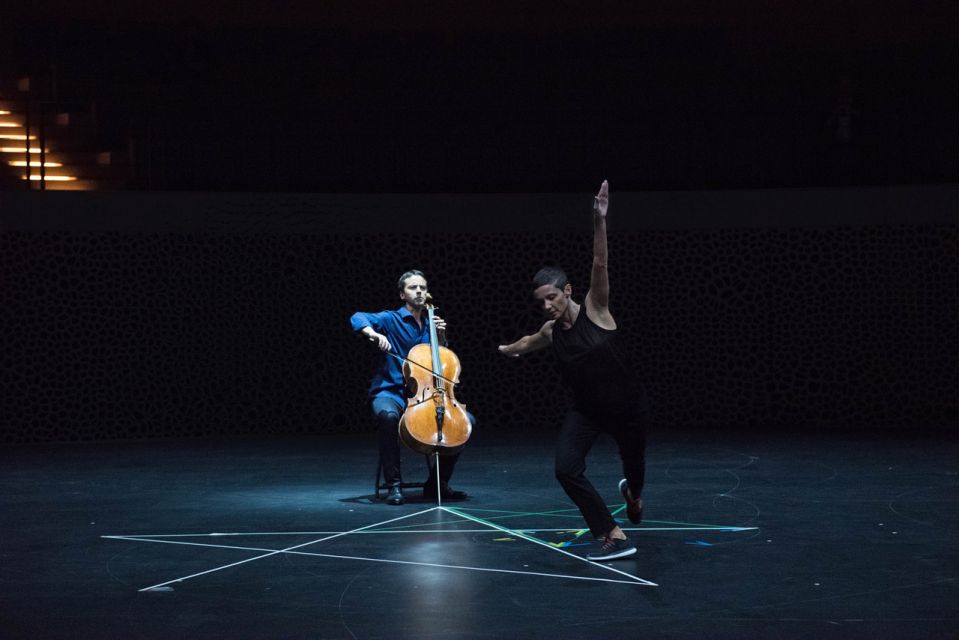 Johann Sebastian Bach's Cello Suites are considered a milestone in the history of Western music. The intellectual and architectural elements continue to evoke contemporary appeal, with their rhythmic vitality and melodic intricacy. Anne Teresa De Keersmaeker's affinity with Bach was already apparent in several previous creations, and she continues to pursue a choreographic écriture that captures the essence of Bach's musical language. In this production, Bach's score, performed in its totality by the world-renowned cellist Jean-Guihen Queyras, is faceted, challenged, and performed through a choreography for three male and two female dancers, De Keersmaeker herself one of them. Both the individual character of the six suites and their mutual interconnections emerge from this riveting symbiosis of music and dance.
Choreography
Anne Teresa De Keersmaeker
Cello
Jean-Guihen Queyras
Created with and danced by
Boštjan Antončič, Anne Teresa De Keersmaeker, Marie Goudot, Julien Monty, Michaël Pomero

Music
Johann Sebastian Bach
6 Cello Suites, BWV 1007 to 1012
Costumes
An D'Huys
Dress Anne Teresa De Keersmaeker
Anke Loh
Dramaturgy
Jan Vandenhouwe
Sound
Alban Moraud
Lighting design
Luc Schaltin

Production
Rosas
Coproduction
De Munt / La Monnaie (Brussels), Ruhrtriennale, Concertgebouw Brugge, Philharmonie de Paris – Théâtre de la Ville – Paris – Festival d'Automne à Paris, Sadler's Wells (London), Les Théâtres de la Ville de Luxembourg, Opéra de Lille, Ludwigsburger Schlossfestspiele, Elbphilharmonie (Hamburg), Montpellier Danse 2018

World Premiere
26 August 2017, Ruhrtriennale

Mitten wir im Leben sind/Bach6Cellosuiten was realized with the support of the Tax Shelter of the Belgian Federal Government, in collaboration with Casa Kafka Pictures Tax Shelter empowered by Belfius.
Teaser #1

Jean-Guihen Queyras interviewed by the Philharmonie de Luxembourg