The Six Brandenburg Concertos
Anne Teresa De Keersmaeker, Amandine Beyer / Rosas & B'Rock Orchestra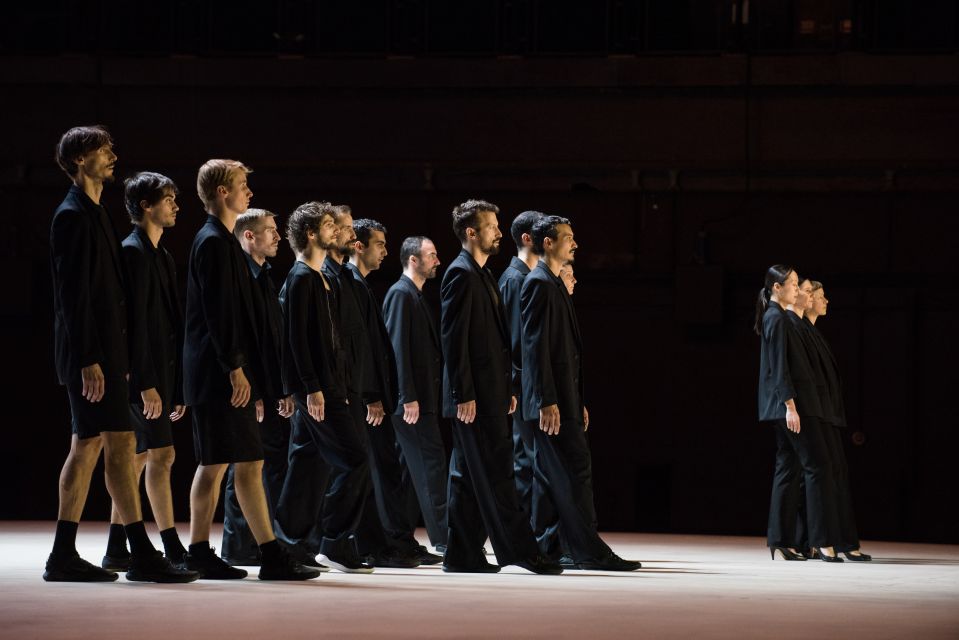 During her 1980 stay in New York, in which she first rehearsed her celebrated Violin Phase to the music of Steve Reich, the only other recording playing in Anne Teresa De Keersmaeker's studio was the Brandenburg Concertos by J.S. Bach. Thirty-five years later, De Keersmaeker continues her work with the piece. "Like no other, Bach's music carries within itself movement and dance, managing to combine the greatest abstraction with a concrete, physical and, subsequently, even transcendental dimension."
The Brandenburg Concertos consist of six concerti grossi, in which Bach deploys the instruments from the baroque orchestra in different, often audacious constellations. Against this backdrop, De Keersmaeker sets sixteen dancers originating in different Rosas generations. Following the premiere of Mitten wir im Leben sind/Bach6Cellosuiten De Keersmaeker approaches, as in Vortex Temporum (2013), Bach's music as if it were a ready-made score for a dance piece, embodying Bach's polyphonic mastery. The concertos are played live by the baroque ensemble B'Rock. Violinist Amandine Beyer, with whom De Keersmaeker previously co-operated for Partita 2, will conduct the orchestra.
Choreography
Anne Teresa De Keersmaeker

Music director
Amandine Beyer
Musicians
B'Rock Orchestra
Created with and danced by
Boštjan Antončič, Carlos Garbin, Frank Gizycki, Marie Goudot, Robin Haghi, Cynthia Loemij, Mark Lorimer, Michaël Pomero, Jason Respilieux, Igor Shyshko, Luka Švajda, Jakub Truszkowski, Thomas Vantuycom, Samantha van Wissen, Sandy Williams, Sue Yeon Youn
Music
Johann Sebastian Bach, the Brandenburg Concertos, BWV 1046–1051
Costumes
An D'Huys
Set and lighting design
Jan Versweyveld
Dramaturgy
Jan Vandenhouwe
Musical advice
Kees van Houten
Production
Rosas
Coproduction
B'Rock Orchestra, Volksbühne (Berlin), La Monnaie / De Munt (Brussels), Opéra de Lille, Opéra National de Paris, Sadler's Wells (London), Les Théâtres de la Ville de Luxembourg, Concertgebouw (Bruges), Hollandfestival (Amsterdam)
World Premiere
12 September 2018, Volksbühne (Berlin)
Special thanks to
Gli Incogniti
This production was realized with the support of the Tax Shelter of the Belgian Federal Government, in collaboration with Casa Kafka Pictures Tax Shelter empowered by Belfius.
Teaser: rehearsals of The Six Brandenburg Concertos

The Six Brandenburg Concertos (2018) — Trailer