Work/Travail/Arbeid
Anne Teresa De Keersmaeker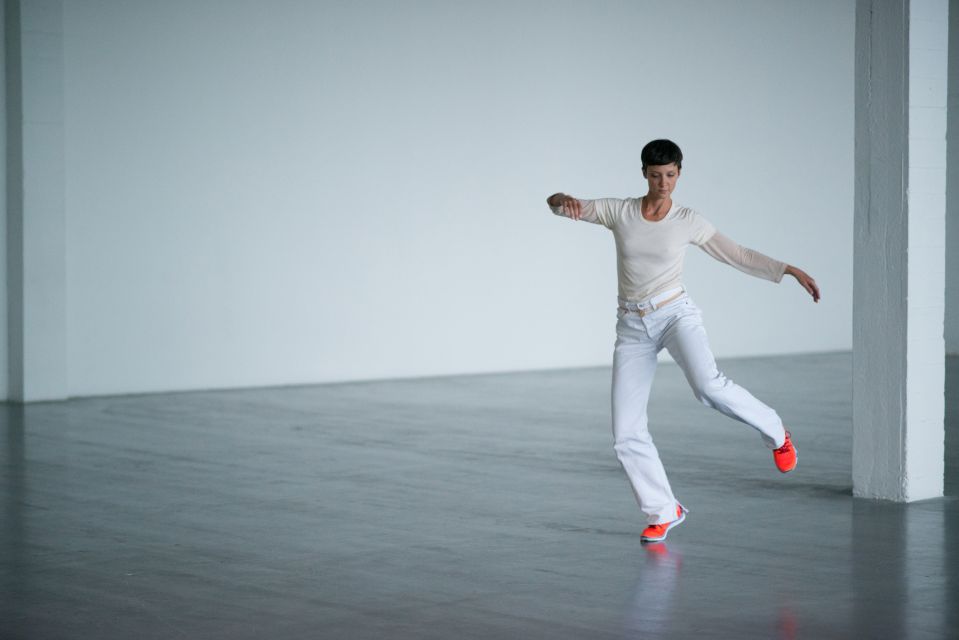 Que devient une chorégraphie une fois présentée selon les codes d'une exposition ? Cette question était au centre du projet Work/Travail/Arbeid. Anne Teresa De Keersmaeker y a répondu en ré-imaginant Vortex Temporum selon les conditions temporelles, spatiales et perceptives radicalement différentes d'un environnement muséal. Il ne s'agissait pas simplement d'importer un spectacle dans un nouvel espace, mais de le repenser sous la forme d'une exposition de neuf semaines, continuellement accessible au public. La chorégraphie originale, conçue pour la durée condensée d'une représentation, s'en trouve totalement réinventée pour s'étendre dans un tout nouvel espace-temps. Ce projet modifie les conditions qui ont longtemps été essentielles à la danse et donne une nouvelle forme à l'écriture chorégraphique rigoureuse qui distingue De Keersmaeker.
Concept & choreography
Anne Teresa De Keersmaeker
Initiated by WIELS
Curator
Elena Filipovic
Artistic consultant
Ann Veronica Janssens
Dramaturgy
Bojana Cvejić
Artistic assistant
Femke Gyselinck
Danced by
Boštjan Antončič, Balázs Busa, Carlos Garbin, Marie Goudot, Cynthia Loemij, Sarah Ludi, Julien Monty, Michaël Pomero, Camille Prieux, Gabriel Schenker, Igor Shyshko, Denis Terrasse, Thomas Vantuycom, Samantha van Wissen
Musicians
Ictus
Music director
Georges-Elie Octors, Diego Borrello
Piano
Jean-Luc Plouvier
Flute
Chryssi Dimitriou
Clarinet
Dirk Descheemaeker
Violin
Igor Semenoff
Viola
Jeroen Robbrecht
Cello
Geert De Bièvre
Music
Vortex Temporum, Gérard Grisey (1996)
Costumes
Anne-Catherine Kunz
Production
WIELS & Rosas
Work/Travail/Arbeid was realized with to the support of
De Munt/La Monnaie, Center for Fine Arts Brussels (BOZAR), Kaaitheater, Kunstenfestivaldesarts, Ictus, BNP Paribas Fortis, Fondation BNP Paribas, WIELS Patrons, and Rolex Institute
The Work/Travail/Arbeid tour is supported by Fondation BNP Paribas. The Centre Pompidou version is a realisation of Centre Pompidou and the Opéra National de Paris. The version at Tate Modern is curated by Catherine Wood, Senior Curator, International Art (Performance), with Isabella Maidment, Assistant Curator, Performance, and produced by Judith Bowdler, Production Coordinator, Live Performance and Film. The version at MoMA is organized by Ana Janevski, Associate Curator, with Martha Joseph, Curatorial Assistant, Department of Media and Performance Art; produced by Lizzie Gorfaine, Performance Producer, with Kate Scherer, Assistant Performance Coordinator. Generous funding for the exhibition is provided by The Modern Women's Fund. Additional support is provided by the Annual Exhibition Fund.
20.03 - 17.05.2015
WIELS, Contemporary Art Centre, Bruxelles
11.09 – 13.09.2015
WIELS, Contemporary Art Centre, Bruxelles
Reprise exceptionnelle dans le cadre du Theaterfestival

26.02 - 06.03.2016
Centre Pompidou, Paris
08 - 10.07.2016
Tate Modern, Londres
29.03 – 02.04.2017
MoMA, New York
14-15.04.2018
Mudam, Luxembourg City

26-29.04.2018
Volksbühne, Berlin
Trailer #1

Trailer #2

Behind the scenes at the Centre Pompidou

Anne Teresa De Keersmaeker: Work/Travail/Arbeid | MOMA ARTIST PROFILES

Work/Travail/Arbeid at MoMA, a video by Gerard-Jan Claes & Olivia Rochette

Anne Teresa de Keersmaeker in conversation with Kathy Halbreich | MoMA LIVE

Lines drawn for Anne Teresa de Keersmaeker's Work/Travail/Arbeid | AT THE MUSEUM

Anne Teresa De Keersmaeker, Work/Travail/Arbeid at MoMA March 28, 2017