Summer Residencies 2023
Gepubliceerd op 17.05.2023, 15:15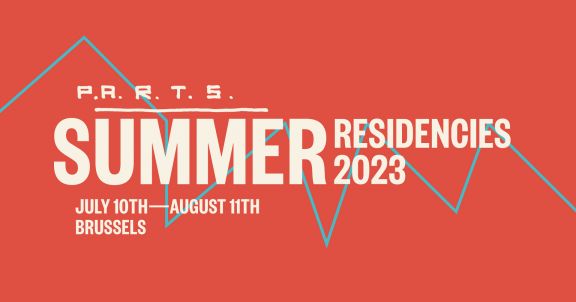 SummerResidency 2023 takes place between July 10 and August 11, 2023.

With SummerResidency 2023 P.A.R.T.S. and Rosas aim to meet a real need for workspace and creative meeting places in Brussels' vibrant arts scene. Besides free studio space with coaching in our professionally equipped dance studios, we also offer thematic labs for young makers & professionals from 18 years. In order to take part, artists need to apply (deadline May 31st) and be selected. You can find the open calls below.
OPEN CALL FOR RESIDENCIES (JULY 10 > AUGUST 11)
Between Monday July 10 and Friday August 11., Rosas and P.A.R.T.S. make their dance studios available to young people.

If you are looking for a space to develop your project or to experiment, you can apply to use the dance studios. Send us a motivation about the project you are working on. It could be research in preparation of a new production, rehearsals, a project that will be set up as a result of the residency, or something completely different. For us it is essential that it is a creative process.

SummerResidencies offers professionally equipped dance studios (floating floor, dance carpet, mirrors and a sound system). Work is possible on weekdays, not on the weekends. If you wish, we can also provide feedback.

Visit https://www.parts.be/summerresidencies-2023 for more information about the application process.
OPEN CALL FOR A THEMATIC LAB WITH ANNE TERESA DE KEERSMAEKER & CORENTIN HANNON ON DANCE & NATURE: 'MANUAL POWER, HORSE LABOUR AND DANCE' (part 2) (AUGUST 7-11)
Over the last years, outdoor physical labour has increasingly become a source of inspiration for Anne Teresa De Keersmaeker. Last Summer, Anne Teresa De Keersmaeker and Corentin Hannon initiated the workshop Hand power, horse labour and dance. They gathered a diverse group of dancers and non dancers, who shared an interest in outdoor labour and agriculture. It was an inspiring collective
experience and there will be a sequel this year.

During this workshop you will start the day with movement sessions for dancers and non-dancers alike, guided by Cassiel Gaube. In the afternoon you will explore some (traditional) techniques stemming from agriculture under guidance of Anne Teresa herself and Corentin Hannon: scything (guided by the experts of 'Zeis en Bijl'), wood lumbering, haymaking as well as pulling exercises with draught horses. During the workshop you will get to work outdoors in a small community, learn how to make fire and cook together, spend time on the field whilst exploring a range of techniques and repetitive movements. How to reconnect our body and the environment? How to slow down in a world full of impulses? De School van Gaasbeek serves as a base, while the activities take place in the surrounding fields.
For more informaiton, visit https://www.parts.be/summerresidencies-2023
OPEN CALL FOR A THEMATIC LAB ON INCLUSION WITH BENJAMIN VANDEWALLE 'COMMON GROUND' (JULY 17-22)
In this workshop Benjamin Vandewalle and the dancers of Platform-K invite bodies with different mental and physical abilities to meet each other on the dance floor. To meet, we sharpen our skills of listening and an openness to the unknown. Each meeting between two bodies asks for a unique approach. We come to a physical dialogue where dancing together becomes possible, sensing what is needed from moment to moment, and finding each other on a common ground.
More than a dance teacher, Benjamin sees himself as a facilitator for encounters. He provides a series of exercises and frameworks, in which each participant is invited to find their own way of making things work in relation with other dancers. The work is mainly contact based, allowing the intelligence of the body to navigate towards the common ground that we are looking for.
For more information, visit https://www.parts.be/summerresidencies-2023
OPEN CALL FOR A THEMATIC LAB WITH STANLEY OLLIVIER ON ENERGY & CARE (JULY 10-14)
This thematic lab is based on a new project initiated by Stanley Ollivier on energy and care. He invites a diverse group of artists to come together to seek new articulations, stories and narratives that the artists of different communities and mediums carry inside themselves. The core of the exploration would be to ease people's pain by inviting them to escape a very social, industrial, technological, capitalistic complex that presses on our bodies and psyche.

What makes us relate to the feeling of safety and protection?
What do we choose to embody in these times, and which practices are we going to use to get there?
How can "affect" exist through pleasure and travel between different entities?
What could be the gesture of giving back to the representative community of our scene?

Memory, transformation, vulnerability, the celebration of being, of the self, will be tools used in this lab to recover an important well-being, which is proper to feel our individuality and return to the very essence of its nature. The work will happen in a collaborative setting, under guidance of Stanley Ollivier.
For more information, visit https://www.parts.be/summerresidencies-2023
Click here for the full Summer Program.
With the support of the Vlaamse Gemeenschapscommissie