Drumming live stream
Published on 28.10.2020, 12:41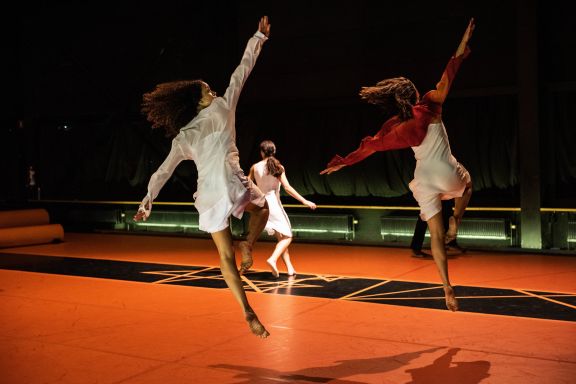 On 9 October 2020, Rosas premiered the revival of Drumming (1998) in the Rosas Performance Space in Brussels. This series was organised in partnership with De Munt / La Monnaie and the Kaaitheater. In order to comply with the hygiene safety measures implemented by the government, 20 performances were scheduled for a limited capacity of 120 seats.
On 24 October, the Brussels authorities decided that public performances were to be suspended until 19 November at the earliest. As a result, the final six performances in the Rosas Performance Space have been cancelled, along with the planned performances with live music by the Ictus Ensemble scheduled for 10 and 11 November in Bozar, Brussels. The cast of the show can still rehearse and dance in the same space, provided that the rules concerning production bubbles are observed.
Now that a large section of the audience will have to miss this performance, Rosas intends to perform Drumming in full and stream it live online from Brussels, in collaboration with De Munt / La Monnaie and the Kaaitheater. This will take place on Friday 30 and Saturday 31 October at 8 pm (CET).

These two performances will be streamed via the company's Facebook, Instagram and YouTube accounts.
Facebook @rosasdancecompany
Instagram @rosasdance
Youtube: RosasVzw