Rosas dances Mitten wir im Leben sind/Bach6Cellosuiten in Brussels!
Published on 23.12.2022, 14:25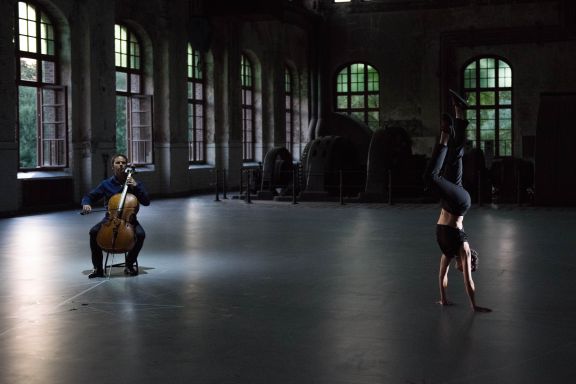 From January 26th until February 11th, Rosas is performing Mitten wir im Leben sind/Bach6Cellosuiten at Rosas Performance Space, co-presented by De Munt / La Monnaie and Kaaitheater.
Johann Sebastian Bach's Cello Suites are considered a milestone in the history of Western music. Their unique architectural qualities, rhythmic vitality, and melodic intricacy continue to appeal. Anne Teresa De Keersmaeker's affinity with Bach was already apparent in several previous creations, and she continues to pursue a choreographic écriture that captures the essence of Bach's musical language. In this production, Bach's score, performed in its entirety by cellists Jean-Guihen Queyras (on January 26 to 28 and February 9 to 11) and Michiaki Ueno (on February 2 to 5), is embodied, challenged and transformed by three male and two female dancers, including De Keersmaeker herself. Both the individual character of the six suites and the connections between them are made visible through this riveting dialogue between music and dance.
Performances:
26-28 January 2023, 20:30 (Jean-Guihen Queyras)
2-4 February 2023, 20:30 (Michiaki Ueno)
5 February 2023, 15:00 (Michiaki Ueno)
9 February - 11 February 2023, 20:30 (Jean-Guihen Queyras)
Location: Rosas Performance Space, Van Volxemlaan 164 1190 Vorst
Tickets via De Munt/La Monnaie or Kaaitheater
CREDITS
Mitten wir im Leben sind/Bach6Cellosuiten
Anne Teresa De Keersmaeker, Jean-Guihen Queyras / Michiaki Ueno
Rosas
Choreography
Anne Teresa De Keersmaeker
Cello
Jean-Guihen Queyras (26-28.01.23, 9-11.02.23)
Michiaki Ueno (2-5.02.23)
Created with and Danced by
Boštjan Antončič, Anne Teresa De Keersmaeker, Marie Goudot, Julien Monty, Michaël Pomero

Music
Johann Sebastian Bach, Six Suites for Unaccompanied Cello, BWV 1007-1012

Costumes
An D'Huys

Dress Anne Teresa De Keersmaeker
Anke Loh

Lighting Design
Luc Schaltin
Dramaturgy
Jan Vandenhouwe

Sound
Aude Besnard, Alban Moraud

Artistic Assistants Creation
Carlos Garbin, Femke Gyselinck
Assistant to the Artistic Director
Martine Lange
Artistic Coordination and Planning
Anne Van Aerschot
Artistic Advice
Thierry De Mey
Tour Manager
Jolijn Talpe
Technicians
Peter Fol, Quentin Maes, Michael Smets, Arno Truyens, Neal Van Pee
Costumes Coordinator Ad Interim
Emma Zune
Assited by Els Van Buggenhout
Wardrobe
Chiara Mazzarolo, Els Van Buggenhout, Emma Zune
Assistant Technical Director
Jonathan Maes
Technical Director
Freek Boey

Production
Rosas

Coproduction
De Munt / La Monnaie (Brussels), Ruhrtriennale, Concertgebouw Brugge, Philharmonie de Paris – Théâtre de la Ville – Paris – Festival d'Automne à Paris, Sadler's Wells (London), Les Théâtres de la Ville de Luxembourg, Opéra de Lille, Ludwigsburger Schlossfestspiele, Elbphilharmonie (Hamburg), Montpellier Danse 2018
Acknowledgements
Mathieu Bonilla, François Deppe, Palle Dyrvall, Alain Franco, Thomas Hertog, Anke Loh, Kimiko Nishi, Maria Eva Rodriguez, Aurianne Skybyk
World Premiere
26 August 2017, Ruhrtriennale

Duration
2:00
Mitten wir im Leben sind/Bach6Cellosuiten was realized with the support of the Tax Shelter of the Belgian Federal Government, in collaboration with Casa Kafka Pictures –Belfius.
Rosas is supported by the Flemish Community, the Flemish Community Commission (VGC), and the BNP Paribas Foundation.