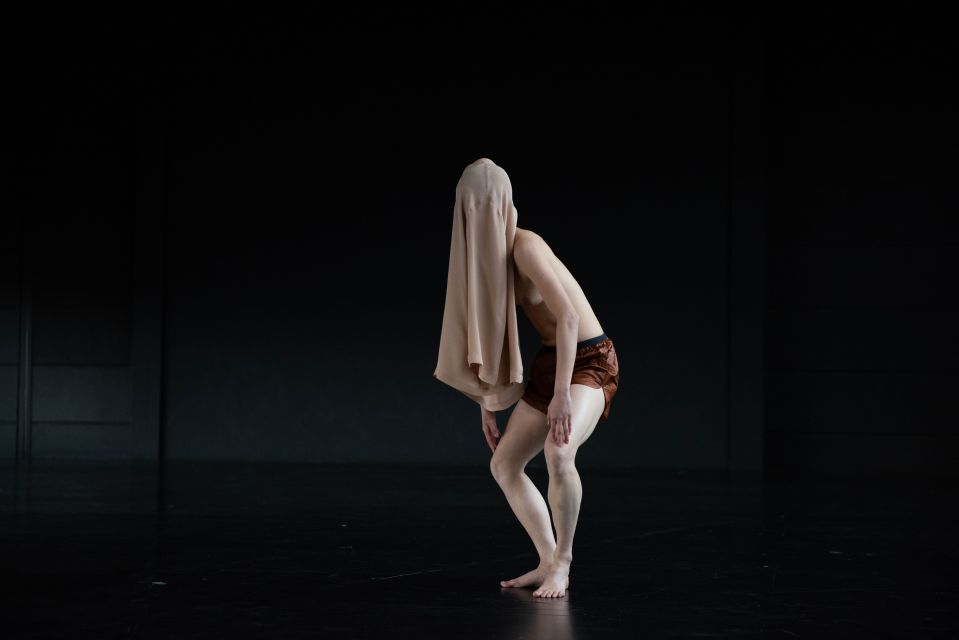 What would it mean for choreography to perform as an exhibition? How does the architecture of museum spaces encounter the architecture of bodies? What dialogues can unfold between dance and visual art? These questions have been a point of departure for Anne Teresa De Keersmaeker since the seminal exhibition Work/Travail/Arbeid at Wiels in 2015, and more recently for the ongoing Dark Red research project.
In 2021, De Keersmaeker was invited by Fondation Beyeler to create Dark Red—Beyeler, where the dancing body faced the sculptural work of Auguste Rodin and Hans Arp. As a durational 'live installation', the performers bring the sculptures to life. They create kinetic links between static figures, playing on the line between abstraction and representation. Occasionally, a solo performer appears as a tour guide to share his thoughts on the sculptors and their work.
Now, with Dark Red—Beyeler/RPS, this work is shown in the home of Rosas; the place where the research for this creation initially took place. How does the choreography evolve in this space? What echoes remain of the sculptures that inspired it? How will embodied abstraction be experienced here?

Opening hours (continuous):
Sat 23 April (Dance Day 2022) 14:00 - 22:00
Sun 24 April 14:00 - 20:00

Fr 29 April 18:00 - 22:00
Sat 30 April 14:00 - 22:00
Sun 1 May 14:00 - 20:00

Fr 6 May 18:00 - 22:00
Sat 7 May 14:00 - 22:00
Sun 8 May 14:00 - 20:00

Rosas Performance Space
Van Volxemlaan 164
1190 Brussels, Belgium
Concept & choreography
Anne Teresa De Keersmaeker
Danced by
Boštjan Antončič, José Paulo dos Santos, Michaël Pomero, Rafa Galdino, Marie Goudot, Frank Gizycki, Jacob Storer, Lav Crnčević, Cynthia Loemij, Laura Maria Poletti, Sophia Dinkel, Némo Flouret, Cintia Sebők, Mariana Miranda, Mamadou Wagué, Yuika Hashimoto
Choreographic assistants
Diane Madden, Michaël Pomero
Research
Tessa Hall, Némo Flouret
Costumes
Lila John
Music
Take Five, Paul Desmond, @Derry Music Company
The Times They Are a-Changin', Bob Dylan
Artistic coordination and planning
Anne Van Aerschot
Production
Rosas
Coproduction
Fondation Beyeler
Copresentation
De Munt / La Monnaie, Kaaitheater
In cooperation with Wiels and Art Brussels 2022.